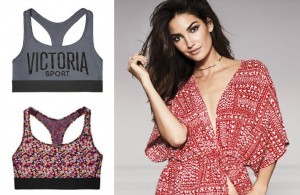 WOW!! Victoria's Secret is having an awesome promotion right now!! Through 2AM EST you can score FREE shipping on an order of $25 or more AND score 20% off a single item!! Just enter promo codes SHIP25 and ITEM20 at checkout. But…there's more!!! When you purchase 2 bras, you can also score a FREE Sweetheart Kimono!! Just enter promo code SWEETHEART at checkout. And the best part??? You can combine all three promo codes in the one transaction!!! Woohoo!!!
To score the best deal, add (2) The Player Racerback Sport Bra by Victoria Sport currently priced at only $15 each. Your total will come to $30. Enter promo code ITEM20 to take 20% off a single item (takes off $3). Plus, enter promo code SHIP25 to score free shipping since your total is over $25 AND promo code SWEETHEART to score a FREE kimono since you're purchasing two bras! Your final total will be only $27 SHIPPED FOR ALL THREE ITEMS!! That's like paying only $9 for each item!!!
Move quickly as this deal is valid only until 2AM EST!!!