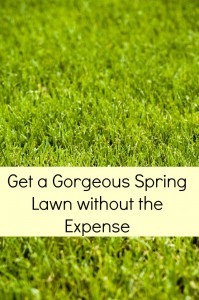 Do you have a yard?  Do you find yourself struggling to keep your lawn looking great without spending a lot of money?  Well, I have some tips for you to follow that will enable you to keep your lawn looking great without spending a fortune, or a lot of time on it.
Follow these tips and you will be able to maintain a beautiful lawn that you can be proud of year round!
Eliminate and Prevent Weeds.

What kind of weeds do you find yourself dealing with?  If you deal with broadleaf weeds (dandelions, white-flowering clover and big-leaf plantain), you can eliminate them, but either removing them by hand or by using a granular weed control product on them.  Or you can prevent them from growing in the first place by using a pre-emergent herbicide in the early spring (check out your local home improvement stores for this).

Mow more often.  

Mowing your lawn more often, helps stimulate your lawn to grow lush and green.  As a general rule of thumb, be sure to not cut off more than ? of the length of the grass.  Mowing your grass shorter may seem to save you time, in reality it stimulates the growth of weeds, which makes you work more often.  Additionally, make sure to keep your mower blades sharp, by either sharpening or replacing them once per lawn care season.

Water in the A.M.

 Watering your yard in the evening results in soaked grass, which can increase your chances of diseases in the grass.  When you water early in the morning, the grass will dry with the warming sun.

Spot Train Spot.  

I know that you just love your canine kid, but did you know that he is ruining your lawn?  Make sure to spot train your dog to "go" in a specific spot.  You might consider creating a mulch or gravel spot to take him to urinate as dog urine contains nitrogen which causes yellow grass and dead spots throughout your yard.
What is your favorite way to frugally beautify your yard?