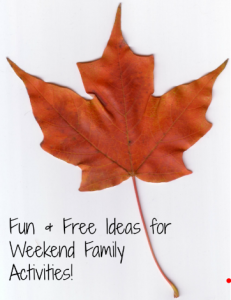 Are you tired of wasting each and every weekend just watching TV?  Would you like to do something fun with your family for a change?  Well, you can!
Don't worry, it doesn't have to cost an arm and a leg. There are actually a pretty great deal of things that you can do with the family this weekend that will keep you busy having fun, but will cost you nothing!
Leaf Art
This activity is two fold.  Have the kids help you rake up leaves that have fallen in your lawn (Hello Autumn!) and together you can pick out the best ones to take inside with you to create your best leaf art with.
Go to Local Sporting Events
Many local junior high and even some high school teams don't charge admission for kids, but they can be a lot of fun to watch!  If your kids are interested in sports, this is a great way to introduce them to the sport before they start playing and local teams can always use extra support.
Take a Tour of your local Fire Station
Did you know that fire departments offer tours of the station?  Call your local department and find out the best time to come in for a guided tour.  Doesn't every little kid want to be a fireman at some point?  This is a great chance for them to see what happens!
Play a Family Game of Football
Get the kids and mom and dad ready to play ball!  Playing a friendly game of touch football is a great way to spend some time outside taking in everyone's favorite fall sport.
Volunteer
It costs nothing to help someone in need. Whether you take your extra coats and blankets down to the shelter or you volunteer to work at the soup kitchen, I'm willing to bet that you leave there feeling pretty great about your day.
Game Night
Break out the board games and get your friendly, family competition on!  We try to do game night at least once a month and we never regret it.  It is so much fun to spend that time with no TV, no electronics, just family and fun.
What are your favorite, budget friendly ways to spend your weekends with the family?