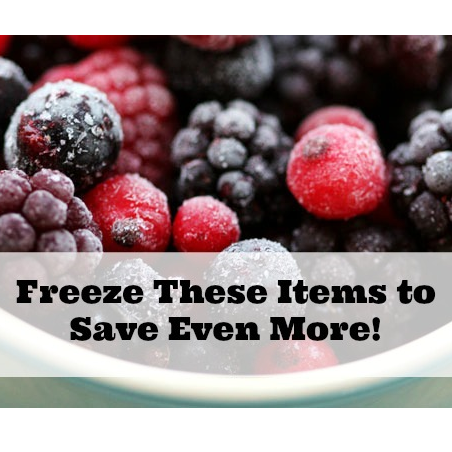 Are you looking to simplify your life and save money while doing it? Try freezing some of the things you might just throw out or forget to use before they go bad! Having these things in the freeze also prevents you from having to run to the store for those few ingredients you forgot! Here are a few things I've frozen to save money:
Milk – make sure to remove some since it will expand. And note once you freeze it, it will look a little yellow but once you've thawed it you'll be able to mix it up and it will be as good as new.
Cheese – best to freeze shredded but buying it as a block is cheaper. So get the block, shred it into bags and freeze.
Eggs – crack your eggs before freezing.
Butter – I do this quite often for the holidays. I tend to need cubes of butter in all my yummy recipes.
Buttermilk – many of my recipes only call for a little buttermilk and I hate to throw any of it out so I'll write the date on a ziplock bag and pour it into the bag to freeze.
Yogurt – this can also be a yummy treat if you freeze it. I enjoy having frozen greek yogurt as a treat at night.
Fruit – bananas, grapes, melons & berries. It's best to flash freeze these before placing them in bags, that way they don't all stick together. But they're great for smoothies or to add to a cobbler.
Veggies – Zucchini, onions, corn on the cob are all great to freeze. I've frozen our corn from our garden this year. You can freeze it on the cob or cut it off and place in bags. Onions are great to freeze, then you're only crying one night instead of every night you need to slice one up. I prefer to slice my onions in rings then if I need diced onions they're really easy to break up while they're frozen.
Garlic – You can either peel cloves and freeze them whole or you can crush or slice them first, which ever way you use them more often. You can also put sliced garlic in olive old and freeze.
Broth – If you cook up your chicken is easy to create your own chicken broth, then you know exactly what's in to but maybe you don't need to use it right away. Try freezing it and saving for another night.
Herbs – With herbs you can either freeze leaves individually or put them in an ice cube tray and fill with water. They will go a little limp but they're great for adding more flavor to your dishes!
Sometimes I'll find myself walking down the freezer isles at the grocery store to see what else I can freeze. I just think, if they can freeze it, why can't I? Are there other things you freeze to save money?