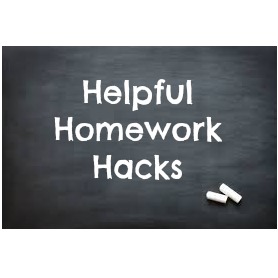 Homework can get a little overwhelming for both kids and parents! It's not an easy task to get your kids motivated to do their homework but there are some ways that might help! Try giving one of these a chance the next time you're struggling with homework:
Make chocolate available during math homework – your kids will love this one and there have been studies that show eating chocolate while working on math homework helps.
Make sure all your homework supplies are easily reachable – we keep ours in a pencil box and bring it out onto the table during homework time.
Create a space that helps your child be less distracted – if that's in their room or at the dining table, either way make it a calm area
Create a homework station – this is a great place to keep things they're working on right in front of them and giving them a space to go to work on homework and study
Block out a time for homework – if it's easier to do homework right after school or dinner, set that time aside each day so that they know exactly when they are to do their homework. Then you'll have less fighting because they'll know exactly what's expected
Find an incentive for your child – whether it's extra tv time or a trip to the park, find some way to motivate your child.
Wear something comfortable while studying – if your kids love their pj's or maybe a pair of soft socks, let them wear them while doing homework. That way they're relaxed and ready to learn.
Create a sticker chart or reward system – we pay our kids to do homework and while that might not work for everyone, find a way you can reward your kids. You can do a simple sticker chart with a prize for when they fill it up. Or take them to get something when they do well on a test.
Set an alarm clock – this lets them know there's an end in sight. They only have to read for 20 minutes, so set a timer.
Each of these are ideas to get your mind flowing of ways to help win the homework fight and keep your kids going in school. It's not easy but so worth all the work you put into helping them learn and grow.