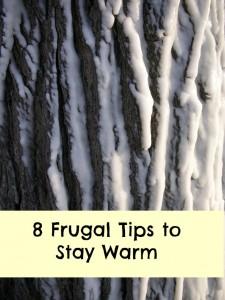 With the cold weather swiftly making its appearance, we are all looking for ways to stay warm without cranking up the heat and increasing our expenses.  Did you know that there are actually quite a few ways that you can stay warm while maintaining your frugal mindedness.  
Grab a sweater.  Wearing warm clothes or layers is perhaps the easiest and the cheapest way to save money on your heating bill.  Simply adding a sweatshirt and socks will keep you warm enough to prevent touching the thermostat.

Start Baking.  If you like to bake, take advantage of of the cool weather to do just that. Using your oven is a great way to keep the house a couple of degrees warmer.  Also, be sure to leave the door open when you are done baking.  You may as well not let that hot air go to waste!

Reverse your ceiling fans.  Do you have a ceiling fan?  If so, be sure to turn it on reverse.  This will push the warm air down into the room as opposed to trapping it near the ceiling.

Use draft warmers. Purchase an inexpensive draft stopper or roll up towels to keep at the bottom of your doors to prevent cold air from making its way in.

Open your curtains.  When the sun is out (even if it is cold) be sure to open up your curtains to let the sunshine warm the room.

Change your sheets.  We always keep several sets of sheets available for each bedroom in our house and one of those sets is always flannel.  They keep you much warmer at night, which helps prevent you from needing to turn the heat up to stay warm while you sleep.

Keep your doors closed. This goes for your interior doors as well.  If you have rooms that aren't used as often, be sure to keep those doors closed to prevent wastefully warming a room.

Cover windows with plastic.  You can buy inexpensive rolls of plastic to cover your windows with during the Winter.  Many people also use shower curtains for this same reason.  The plastic prevents warm air from escaping your home and also keeps cold air from coming in.
Do you have any other great tips to staying warm on a budget.