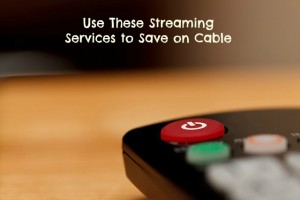 What do you do for entertainment in your home?  Do you use cable or satellite TV?  How much do you pay?  I'm guessing you would prefer not to answer that question, because the fact it, it's expensive!  The average cable bill right now is around $100 per month.  $100!!!  That is $1200 per year that is being spent just to watch TV.
The easy way out of this bill is to simply cut out television all together, but we all know how difficult that can be.  So one easy solution is to choose a streaming service to watch your television shows and movies on.  
Here is a list of the different streaming services you can use to save big on your cable expenses:
Sling TV – I will start out this list with the most expensive streaming option.  Sling TV runs about $20 per month, but you can stream LIVE TV on some of the most popular networks such as HGTV, AMC (Walking Dead fans will love this!) and Lifetime.
Netflix – I know that most of you are familiar with this one, but for less than $10 per month you can have access to thousands of movies and television shows.  Netflix also recently started producing their own shows!  So much stuff to watch!  Netflix offers a free one month trial for new customers.
Amazon Prime – Amazon Prime is similar to Netflix in that there are thousands of movies and television shows that Prime members can stream for free on Amazon Instant Video. Amazon has also gotten into the production game of creating their own shows, which have been a ratings hit for them (Transparent, Alpha House, etc).   Amazon Prime is paid for yearly and costs $99, so less than $9 per month and new customers can sign up for a free one month trial.
Hulu – Hulu allows you to watch current shows on network television for under $10 a month. You typically have to wait a day or two after the show airs to watch it.  Not all networks are on Hulu though, so do your research before signing up to be sure you will get the shows you want.