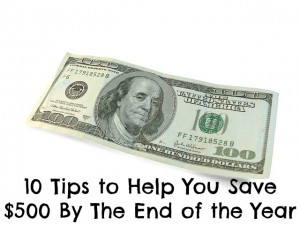 Most of us have expenses in our lives that interfere with our budgets.  Do you know where your budget leaks are?  
Many budget leaks spring from the same areas.  Here are 10 ways to reign in those budget leaks and save yourself at least $500 by the end of the year.
Turn off the TV.  No I don't mean to hit the power button, I mean cancel your cable and/or satellite and find another entertainment source.  That can mean streaming netflix or watching your old DVDs.  Plus, if you live in a city, you can easily get local channels without any cost by using an antenna.  This step alone can easily save $100 per month (depending on the amount of your bill)

Keep the car parked.  If you combine your errands and trips, you will save gas therefore save money.

Cut the coffee trips.  Switch to home brew instead of hitting the drive through each day.  This can save you up to $5 per trip.

Skip the car wash.  Say you get your car washed twice a month at $6 per trip.  That is almost $150 per year you will save.  

Use coupons.  Coupons are a great resource for saving money.  You can literally save hundreds of dollars each year by clipping coupons from newspaper inserts and printable coupons.

Hit the clearance racks.  Whenever you go shopping for pretty much anything, be sure to hit the clearance racks to find the best deals.

Call and compare your insurance rates.  The commercials don't lie. It is smart to call once a year or so to be sure that you are getting the best insurance rates.

Use LED light bulbs. This switch can easily save you $50+ this year.

Carpool.  If you live nearby any co-workers, consider carpooling with them. You will both save money on gas and vehicle maintenance.

Switch your phone plan. Whenever you have a few minutes to spare, call your cell phone provider and simply ask about any discounts you may be missing.  Chances are there are one or two that you can take advantage of.