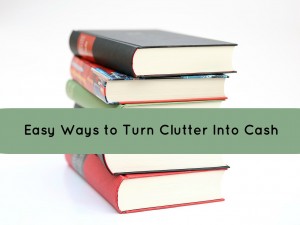 Is your home being overrun with clutter? Are you ready to chuck everything in a dumpster just to get rid of it and have your house back?    No need!  You can actually turn that clutter into cash and really feel good about getting rid of it!
Here are a few simple tricks to get rid of your clutter, empty your house and fill your pockets:
Start by going through the house one room at a time.  This will help you not feel overwhelmed by the process.  Start in the closet of each room and go from there.  Taking on the clutter one room at a time, makes the process seem far less daunting.
Separate and organize your stuff.  I use a 4 pile system.  
CLEAN AND IN EXCELLENT SHAPE – This is the pile that the items will go in to be sold

GOOD SHAPE – These items should be donated as they are more difficult to sell

BROKEN or OTHERWISE USELESS – Everything in this section should be thrown in the trash

STAINED OR RIPPED CLOTHING OR TOWELS. This is a tricky pile, because you can throw them out or you can turn them into rags for cleaning.  These are good to store in the cleaning supply closet or garage.

Once you have thrown out the trash and made a run to your favorite charity, it's time to put the other stuff up for sale.  Here are a couple of tips to make selling more successful:
USED BOOKS

– If you have extra books that you want to part with, I suggest using Amazon to sell these.  Amazon is the world's biggest bookseller and you will likely find a buyer!

ELECTRONICS

– If your electronics are in good working order, selling should be easy!  Smaller electronics such as iPods, MP3 Players and cell phones are easy to sell on online marketplaces such as Ebay.  However, if you are selling larger items (receivers, speakers, TVs, etc) you should consider placing your for sale ad on Craigslist or on Facebook for sale pages.  The shipping charges on these larger items make it more difficult to sell to a distant buyer.

CLOTHES

– If you have nice clothes that are in great condition you have several choices.  Sell them to high end thrift stores (Plato's Closet, etc).  They pay for name brand clothing on the spot.  You can sell on Ebay as well.  Another great avenue is to sell via Facebook for sale group sites.  I have seen a lot of clothing sold this way.

DVDS and VIDEO GAMES

– I like to use Amazon for selling these.  It is very easy to trade them into Amazon in exchange for credit and they pay for shipping!