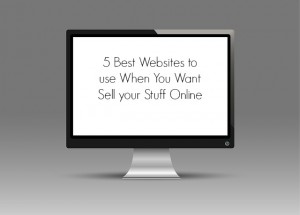 Are you looking for a way to earn a little extra money?  You should consider selling some of the stuff that you never use!  The internet is a fantastic resource for decluttering and making money off of stuff that is just taking up space.  
Do you have a savings goal in mind?  Do you want to build your emergency fund?  Save for a vacation?  How about pay off some bills?  The good thing is, you can sell pretty much anything online to save up for these goals, the question is. Where?
Here are 5 of the best websites to use for selling your stuff:
Amazon.  If you are looking to sell your books, movies or CDs, Amazon is the place to do it!  This can be done via your Amazon Trade In account.  Click on "Your Account" at Amazon and choose Trade In account.  From there, you can enter the information of what you are looking to trade.  You will receive Amazon Gift Cards in exchange for your item.  

Ebay.  The world's biggest online auction site!  If you have more unique items that won't cost a lot to ship, Ebay is your best bet for selling online.  Ebay takes a small percentage for auction fees, but you have the ability to set a reserve and determine how much your stuff sells for.

Fiverr.  Are you selling your services?  Head on over to Fiverr and get to work!  There are people who legitimately earn a full time income working on Fiverr.  At Fiverr you put your services (just about any service) up for sale for $5 and you can charge for extras (expedited work, etc).  

Etsy.  Are you selling your creations?  Etsy is the place to go to sell handmade goods.  It is a great marketplace to sell in because there are many people that love to buy handmade items.

Facebook.  Don't deny it, you are on FB all day, right?  Why not use Facebook for more than just killing time.  Throughout Facebook there are "For Sale" groups that allow you to sell your items.  This is more of an online/in person sales tactic, but it works great!  Unlike CL, it is not anonymous.  People can see your name and face in your negotiations, so you are far less likely to run into the no-shows that many often deal with on Craigslist.