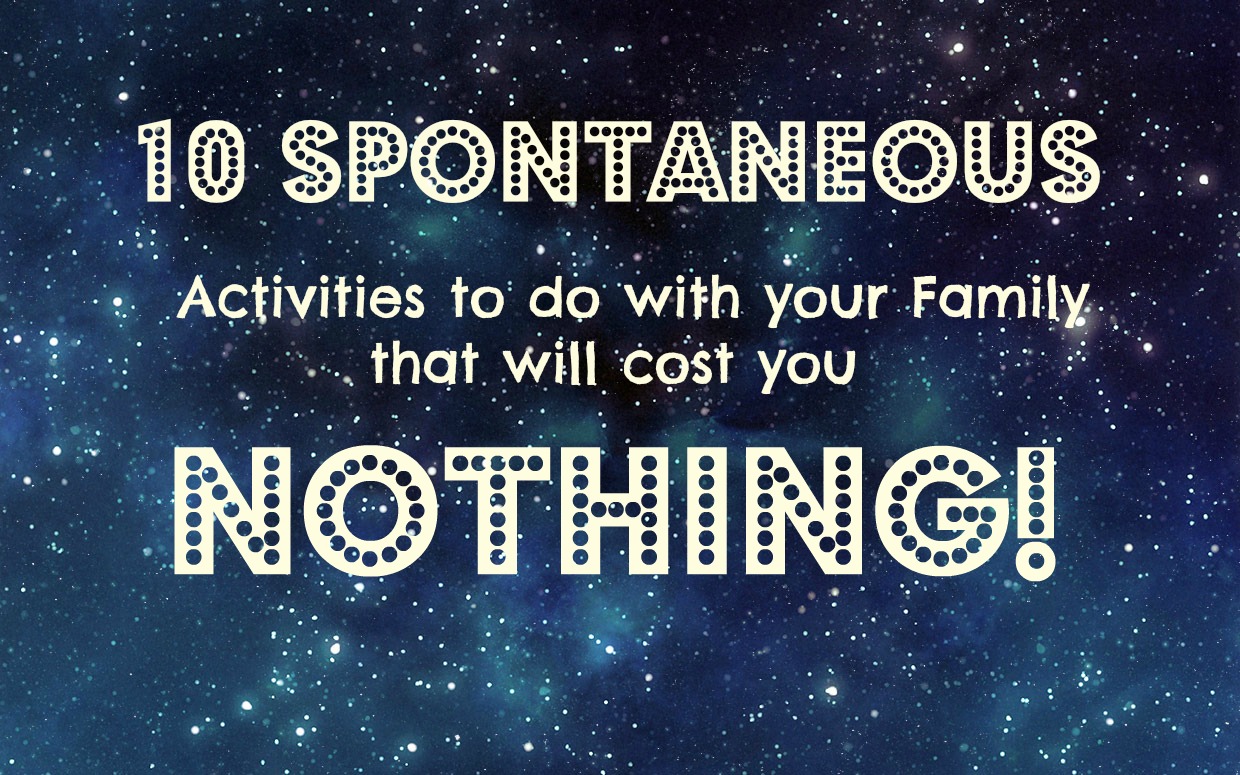 Creating those lasting memories with your kids doesnít have to take a lot of money. You can create some amazing memories that will cost you nothing. Here are some fun things you can do together as a family that is FREE and takes little to no planning!
Chase the Rainbow
Ever seen a rainbow appear while youíre out running errands? Why not make your kidsí dreams come true and see if you can find the end of the rainbow and the pot of gold thatís said to be there. You could even have a few chocolate gold coins on hand to enjoy once youíve found it.
Pick Wild Flowers
Wandering out to pick wild flowers could be so fun and a great way to get outdoors. You could even take the kids†out to pick some wild flowers to give to mom or grandma.† Just make sure youíre not trespassing on private property.
Krispy Kreme Red Light
If youíre lucky enough to have a Krispy Kreme close by you probably know that when the Hot and Ready red light is on you can get a FREE doughnut without having to purchase anything. So next time youíre driving past and see the light, why not make a quick stop for a free doughnut.
Watch for Satellites
Have you seen the ďmoving starsĒ at night? Laying outside watching for satellites could really create some special bonding time with the family. And your kids are going to love getting to stay up past bedtime.
Water Fight
Why not start a water fight one afternoon. Especially now that itís starting to warm up itís the perfect time to surprise the kids. You could easily send them out to pull weeds or mow the grass maybe even scoop up the doggie leftovers. Then grab a bucket with some cups of water and sneak up behind them.
Bird Watching
Thereís lots of places you could go to watch for birds, even in your own backyard. Plus you could borrow a library book on birds and look up what kind of birds you see. Not only would this be fun for the kids but also educational.
Park Hopping
We all have that park we love; itís close by, doesnít have sand, lots of shade, etc. But wouldnít it be fun to take a drive and stop at the first park you see? Or pick a new park once a week to meet up with friends. Maybe pack a picnic for dinner and head out on an adventure to find a new park that looks fun. You could easily add this on your summer bucket list.
Baking Experiments
Pull up that Pinterest board of yours that has all the yummy food creations you want to create and get the family involved. Find one that looks good to everyone and get cooking. So many fun memories can be made right in your own kitchen.
Dance Party
Turn that radio on while youíre in the kitchen and when a fun upbeat song comes on, start dancing! Your kids arenít going to worry that you donít have the best dance moves, theyíre going to be excited youíre spending time with them while laughing and having fun.
Geocaching
Have you tried geocaching before? Itís basically a treasure hunt that you can do with your family in your own home town for FREE.† You can do this by using a GPS unit or by simply using your own phone. Just download a geocaching app and locate a local cache to find. Some locations will be more difficult than others to find so make sure you keep that in mind. Then head out on your treasure hunt to find the cache. Please note: thereís just one rule if you do decide to go geocaching with your family and that is if you take something from the cache, you must replace it with something of equal or greater value.
Do you have something your family loves doing together thatís free and doesnít take much planning? Leave a comment below and let us know!