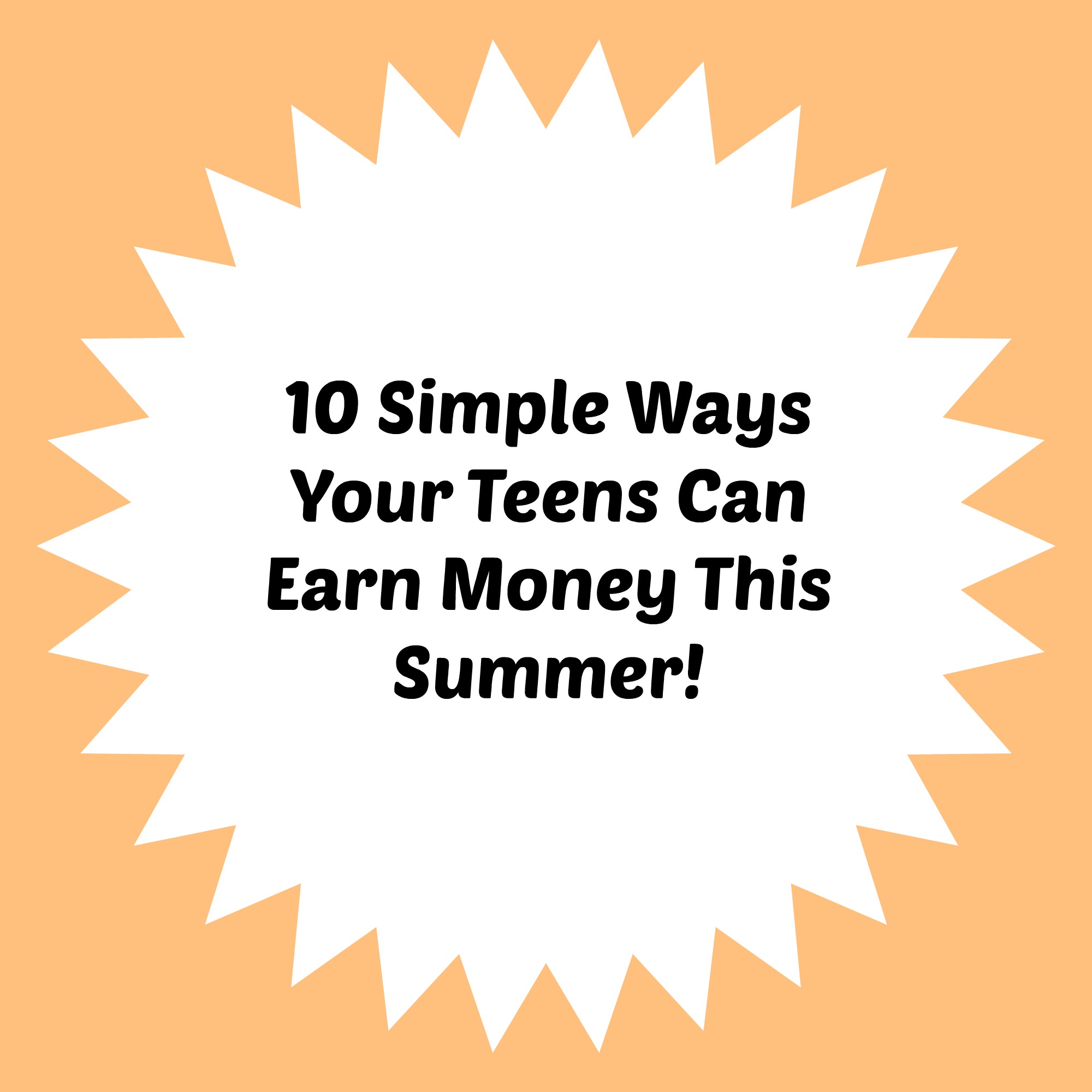 Summer is a great time to relax and go on vacation.  It's also a great time to teach your kids how to work and earn money.  Once they are earning money, it would be a perfect time to teach them the value of money and how to save.  Starting that habit young would help them later on when they are earning more at an older age.
Please Note: Most Teens/Tweens that would be teaching these classes or doing these services would not be super experienced.  So, make sure you charge very reasonable prices.  That way, neighbors and friends would want to come to your camp or hire you for projects rather than going to the community for classes or hiring an expert.
Here are a few simple ways your kids can earn money this summer:
Camps: Think of  your talents and what kind of camp you could teach to young kids in the neighborhood.  These camps can just be a few days long.  Then you can do a few sessions if you get a lot of interest.


A few suggestions:


*Princess Camp- Have the kids come in princess dresses.  Teach them dances, make crafts, eat princess food, teach about etiquette.
*Sports Camp- Teach the fundamentals of your favorite sport and then have scrimmages.
*Craft Camp- Have a few different crafts each day that teach different art techniques.
*Karate Camp- Call this a Super Hero camp and have them dress up in their super hero costumes.  Teach the fundamentals of karate and teach about respect.
*Kids Camp- Invite all kids in your neighborhood and each day have a different theme (party day, sports day, craft day, service day, water day)
*Reading Camp- Have a book of the day and do activities around that book.  Help with writing and basic reading for younger kids. You could even have the kids dress up as their favorite book character.

Mow, Edge, Lawns

Walk Dogs or Watch Animals while families are on vacations
Babysitting 
Lemonade Stands– Never underestimate the power of a good Lemonade Stand!  Maybe include a bake sale or other yummy treats.
Fairs/Craft Shows– Use your hobby to create something to sell. For example, if you love to do pottery, make some items and sell them at a local craft fair.  Also, think- beads and jewelry, paintings, quilting, photography, and lot's more.
Detail Cars– Have a time when neighbors and friends could bring their car to your home to have detailed and washed.  Or, make appointments and go to their homes.
Handy Man Or Woman– Be willing to do odd jobs like washing window, cleaning rain gutters, weeding gardens, raking leaves, washing baseboards, watering flowers and beds.
Tutoring- Think of a subject that you are really good at and teach other kids that might be struggling with that subject.  There are a lot of FREE online resources that would help you out when teaching your subject.  You can find FREE worksheets and printables.
Sell Your Clothing- If you have clothing and shoes that you have grown out of and you want to sell, then use sites where you can get money in return!  A few great ones that have been mentioned here on F2D are ThredUp.com, Poshmark, and Tradesy.
This is also a great way to have your kids organize and clean their closets!
**A few great ways to advertise your services might be:  delivering flyers to your neighbors, posting your services/camps on Facebook, showing your products on Instagram, or hanging flyers up at your local grocery stores.
Do you have any other great ideas on ways your teens can earn money this summer?
We would love to hear them! 🙂