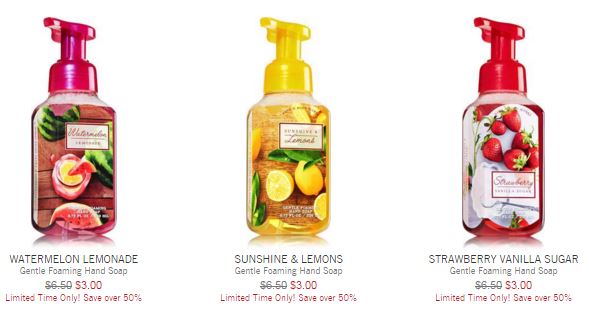 For a limited time you can grab Bath & Body Works Hand Soap on sale for $3.00 each!  Plus you can save $10 off your $30 purchase when coupon code S163091.  These make great neighbor/thank you gifts, teacher appreciation gifts or even friend gifts! Here's how to get this deal: 
Purchase 10 Gentle Foaming Hand Soaps for $3.00 each
Use coupon code S163091 to save $10 off your purchase of $30 or more
You'll pay $5.99 to have them shipped
Total cost $25.99 for 10 soaps – that's just $2.60 each!
So you could grab 10 of the $3.00 hand soaps and have them shipped for just $2.60 each!
It's been awhile since we'be seen a great deal on Bath Body Works foaming hand soaps so grab what you need now before they start to sell out.