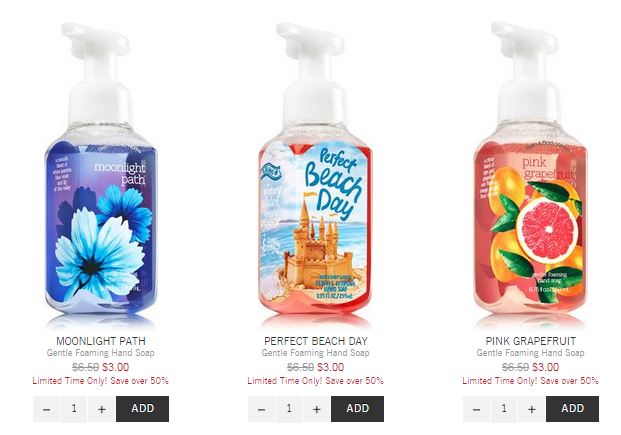 For a limited time you can grab Bath & Body Works Hand Soap for as little as $2.18 each! Including shipping cost! These make great neighbor/thank you gifts, teacher appreciation gifts or even friend gifts! Here's how to get this deal:
Purchase 10 of the $3.00 clearance Gentle Foaming Hand Soaps (there are 8 different ones to choose from)
Then, use coupon code 10FORU to save $10 off your purchase of $30 or more
Shipping is additional $5.99 making your total come to $25.99 (plus tax). That's comes out to be $2.60 per Hand Soap!
Or, if you'd looking at spending more, you can use coupon code YAYSALE to save $20 off your purchase of $50 or more! So you could grab 17 of the $3.00 hand soaps and have them shipped for just $2.18 each! (You can do this by following the same steps above but instead, use coupon code YAYSALE at checkout.)
It's been awhile since we'be seen a great deal on Bath Body Works foaming hand soaps so grab what you need now before they start to sell out.
(Thanks Cuckoo For Coupon Deals)