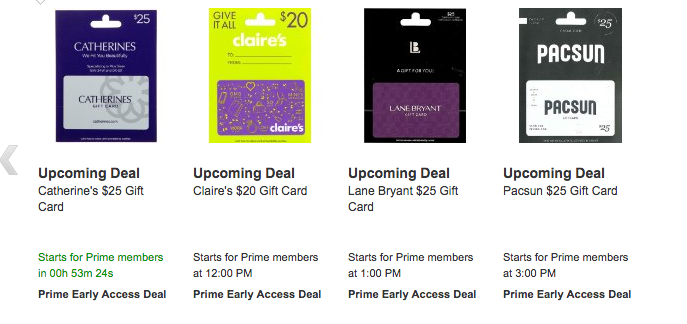 Heads up! Starting at 9am MST today, April 17th, Amazon will be running Lightning Deals on gift cards to select clothing stores! It looks like a new deal will go live every 1-2 hours and the cards are for Catherine's, Claire's, Lane Bryant & Pac Sun! 
Until each deal goes live there is no way of knowing how much the gift card will be discounted. Since gift cards can be used like cash in store or online though and paired with in-store promotions and coupons, any discount is awesome!
If you shop at any of these stores, make sure to set a reminder on your phone for the time the Lightning Deal you want goes live and then be ready right to go a couple minutes before! Deals like these usually aren't available for very long before they sell out.