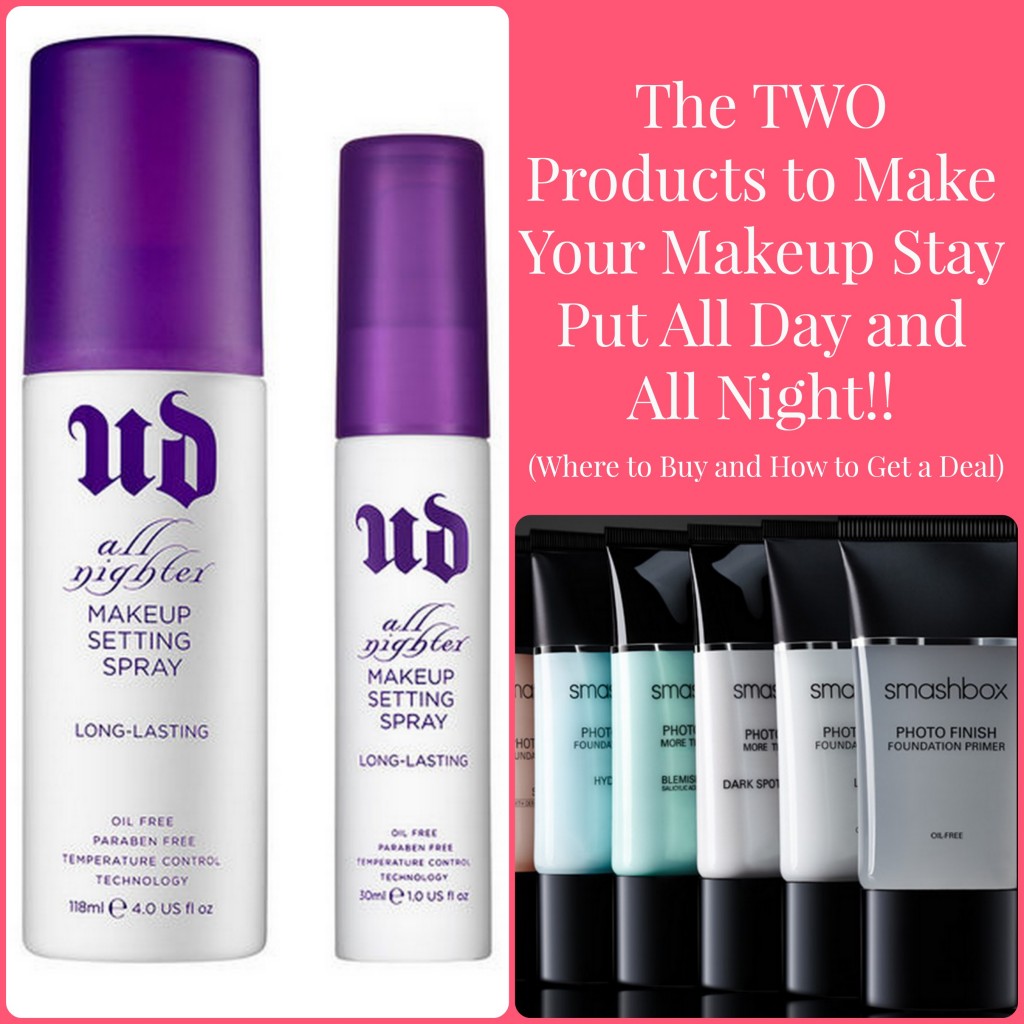 Recently, the subject of Makeup Primer came up between myself and a friend and she had never heard of the concept. She didn't use it and didn't even know what it was.  I couldn't believe it!  But then I thought back to before I knew about it…… and once I tried it, I couldn't believe what I had been missing out on.  I never knew makeup could look so good!
If you want your makeup to stay put, and look exactly the way it did when you put it on, you will need two products: a Makeup Primer and a Setting Spray.  So I thought I would share my favorites with all of you today for Fashion Friday!
FIRST:
The Makeup Primer.  After you put on your moisturizer, you will want to put on a Primer.  Primers are usually silicon based and fill in any wrinkles, lines or spaces so when you put on foundation it doesn't settle into those cracks.  Think of it like using putty on a wall that has a dent or a scratch.  You use putty (primer) to fill in the hole and then paint (foundation) to make the wall look pretty again. Fun analogy right??  ;)
My favorite is the Smashbox Photofinish Primer.  It costs $36.  And this baby last awhile!  I can usually go about 8 months or so on one tube.  So it is definitely worth the cost. The Smashbox Photofinish Primer actually won the Martha Stewart Weddings Big-Day Beauty Award!  So I'm not the only one who loves it. (There are lots of versions of this product, I like the one I pictured the most.  It's the oil-free, original version.)
Now you probably want some sort of deal on it right?  To be honest, I would pay full price for this item because it simply is that great and worth every penny.  But I did find a few ways to save on it:
#1: Smashbox has a Best-Sellers Kit that includes a FULL Size Photofinish Primer and Deluxe Samples of Photo Finish Lid Primer, Photo Op Eye Shadow Trio, Layer Lash Primer and Full Exposure Mascara for $39.  So for $3 more, you might want to grab that for all of the extra goodies that are included.  Shipping is FREE!
#2:  ULTA has Smashbox Photofinish Primer for $36 as well.  Use coupon code 204252 online or print out their coupon to get $3.50 off.
#3: Grab a Travel or Mini Version if you want to test it out before you buy the bigger one.  Sephora has the .4 0z Mini Version for $10!  And they have the .5 oz Travel version for $15.   Includes 3 free samples with your order.
#4: Grab the Smashbox Try Me Kit for $29.  It includes BB Cream (0.5 oz.), Halo Hydrating Perfecting Powder (0.25 oz) and Photo Finish Foundation Primer (0.25 oz.).  You can still use code 204252  to get an extra $3.50 off!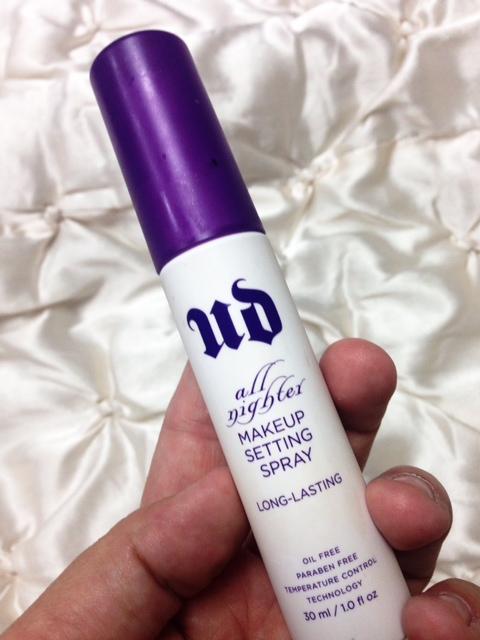 SECOND:
Now you have primed, put on your makeup and you need something to make it stay.  We use hairspray for our hair.  So this is a similar concept.  A setting spray does just what is says…. it sets your makeup to make it last all day.  I am a huge fan of the Urban Decay All Nighter Makeup Setting Spray. (The one pictured above is the Travel-Size.) It works wonders. But don't worry! It's not sticky like hairspray. It feels like a spritz of a fine mist of water and dries instantly.
The big bottle of the All Nighter Spray is $30.00.  And again, here are a few places to get it.  NOTE: **If you are gonna grab the Primer and Setting Spray, you can combine deals and it should let you get free shipping with ANY store you decide to purchase them from. SCORE!
#1: Sephora has it for $30.  3 Free samples with your order.
#2: ULTA Beauty has it for $30 as well.  They also have a travel size version for $14 if you just want to try it out.  Free samples with each order.  Use coupon code 204252 online or print out their coupon to get $3.50 off.
#3: Urban Decay has the All Nighter Full Size AND Travel Size for $32. 
There you have it!! Use both of these products and your makeup will never be the same.  Promise!
**If you want to see past Fashion Friday posts, you can head here.  ENJOY!