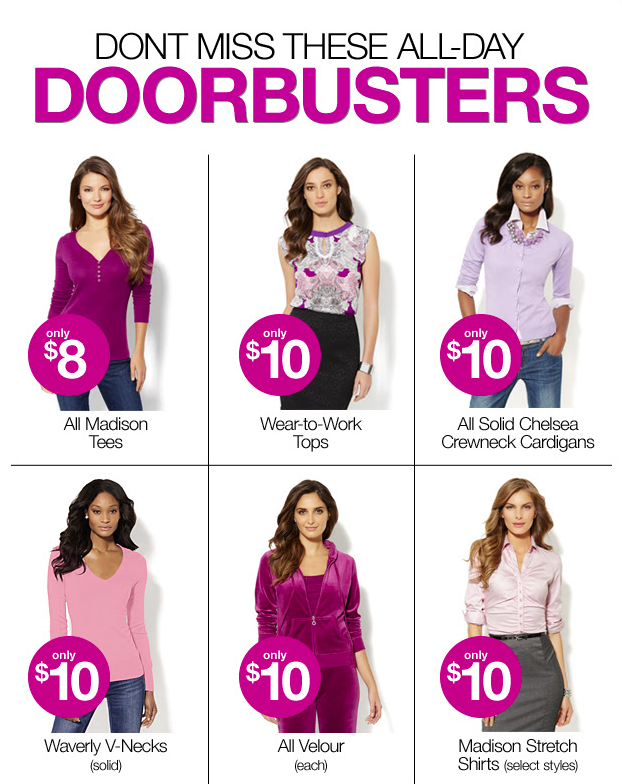 Time to do some shopping for yourself! New York & Company is having their BIG Sale! During this sale everything on their site is on sale with some items being marked up to 80% off!
Plus, you can enjoy up to $30.00 off your entire purchase at checkout! Here's how:
Purchase $30 or more and enjoy $10 off with coupon code 8965 at checkout.
Purchase $60 or more and enjoy $20 off with coupon code 8966 at checkout.
Purchase $90 or more and enjoy $30 off with coupon code 8998 at checkout.
Looking through the sale there are also a ton of Doorbusters happening today that you won't want to miss out on. For example, all Madison Tees are now only $8.00, all Wear-to-Work Tops are now only $10.00, and all Puffer Vests are only $16.00. And those are just a few of the deals that are listed. Hurry over and shop now for the best selection of sizes and styles!
**Fine Print: Shipping is FREE with any purchase of $50.00 or more. Coupon codes do not work on Winter Wows, NY Deals, Redlines and Gift Cards.