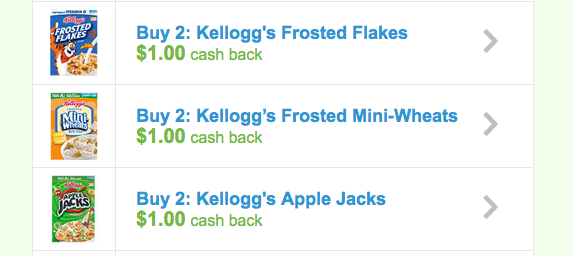 Checkout51 has released their new cash back offers for the week!
Looking at the new offers, there are three different $1.00 cash back offers on cereal. For example, purchase 2 Kellogg's Frosted Flakes and you will receive a $1.00 back! The same goes for Kellogg's Apple Jacks and Kellogg's Frosted Mini-Wheats.
The best part about these cash back offers if that you can pair them with manufacturer coupons and sale prices at the store!
Looking at all of the store deals this week, it looks like the best deal on cereal is at Smith's and other Kroger Affiliated Stores. Here's how a deal scenario works there:
Purchase 2 boxes of Kellogg's Frosted Mini-Wheats at $2.49 each
Purchase 2 boxes of Kellogg's Apple Jacks at $2.49 each
Purchase 2 boxes of Kellogg's Frosted Flakes at $2.49 each
At the register you will get $3 off automatically for purchasing 6
Then use the $1.00 off of three Kellogg's Cereals Coupon
Plus use the $1.00 off of two Kellogg's Frosted Flakes Coupon
You will pay $9.94 but you can submit your receipt to Checkout51 for the $3.00 in cash back
Total cost $6.94 or only $1.16 per box
This isn't the BEST price we have ever seen on cereal. If you are running low and need to grab more for your family though, it's definitely the way to go!
Prefer not to clip coupons? Submitting your receipt to Checkout51 is still a really easy and simply way to get $1-$3 back on any qualifying Kellogg's cereal you might be purchasing this week. Just take a photo of your receipt, submit it to Checkout51, and once you have $20 in your account, you can cash it out! Easy as that!