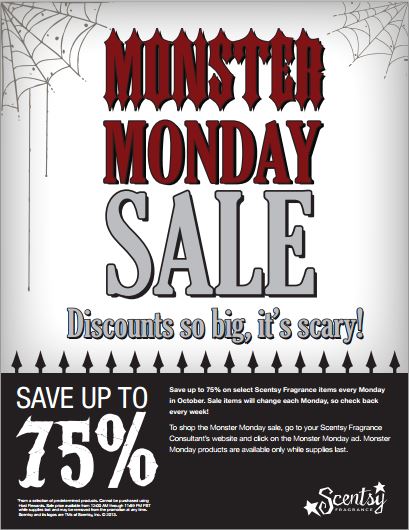 Update: It looks like because of some technical errors with their checkout process yesterday, Scentsy has extended this sale through today, October 22nd. So if you missed out yesterday, you have another chance to shop today! 
If you are looking to purchase anything Scentsy like Warmers, Bars and more, today is definitely the day to do it!  Each Monday in October, Scentsy is holding a Family Monster Monday Sale!  Items will be up to 75% off!
This sale also applies to Grace Adele, that I told you about last week. So if you want a discount on purses, jewelry and wallets, that is the place to check out!
**We have a bunch of readers that are Independent Consultants for Scentsy and Grace Adele.  So, if you are, please leave your personal Scentsy link in the comment section below and readers can go through you!  Make Sure you choose one of those links to go through to make your purchase to help out your fellow readers. 🙂
Please keep in mind that the sites will be running slower due to this awesome sale.  But that is to be expected.  So keep trying if you have any issues so you can get your order placed.
*If you are reading this in your F2D Email, you can head here to see the entire post with comments for the link you need.