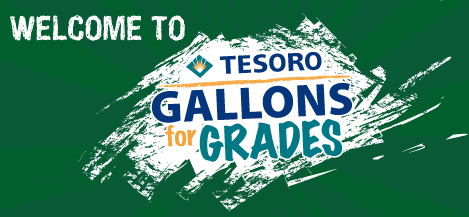 Now this is awesome! Tesoro has started a Gallons for Grades program! This is for students enrolled at a qualified academic institution and are between the ages of 13 -23. They can earn a Free Tesoro rewards card for getting good grades for 2012/2013 school year. The higher the grades, the higher the savings!
Just head over and enter in your students date of birth. Then fill in your child's information. After you hit next you'll need to submit your child's best grade report for 2012/2013 school year. You'll need to either upload a copy of their grades or mail it to them by August 31, 2013.
**Please note: Participants must reside in Alaska, Hawaii, Idaho, Minnesota, North Dakota, Oregon, South Dakota, Utah, Washington or Wyoming. For Grade Reports issued between August 15, 2012 and June 30, 2013. To qualify for the 2013 Gallons For Grades Program, Grade Reports and all required information must be submitted via this website between April 1, 2013 and August 31, 2013. If submitted by mail, envelope must be postmarked no later than August 31, 2013 and received no later than September 14, 2013. No Purchase Necessary.