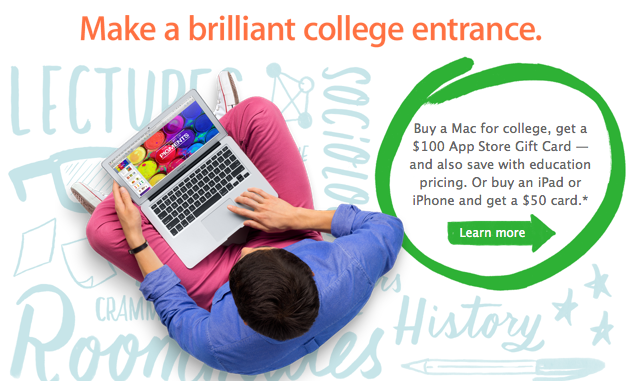 Apple's Back-To-School promotion is back!
When you purchase a MacBook Pro, MacBook Air, or iMac for college you can get a $100 gift card! Plus, when purchasing a Mac for Back-To-School you will score the Apple education pricing.
In order to qualify for this promotion you must be a college student, a student accepted to a college, a parent buying for a college student, or a faculty or staff member from any grade level.
The gift card coupled with the Apple education pricing is about a good a deal as you can get from Apple. So if you have been in the market for a new computer or laptop definitely check this deal out.
There is also a similar deal with the purchase of an iPad or iPhone. You can earn a $50 gift card from Apple with any purchase of the iPad or iPhone.