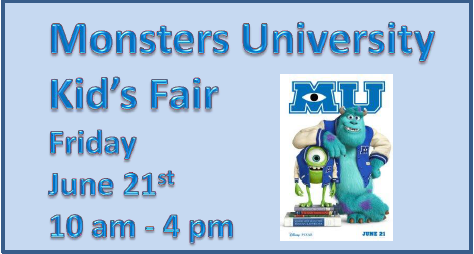 I know a lot of kids (and their parents) are getting excited about the release of Monster's University on June 21st! I also know a lot of families are looking for activities to keep their kids entertained now that school is out!
Friday, June 21st, from 10am-4pm, the Legacy Crossing Megaplex Theater will be having a Monsters University Kids Fair!
The cost of admission is only $6 per child (including the online service fee) and it includes: Face Painting, Bounce Houses, Crafts, Video Games, Prizes & a Little Monsters Costume Contest every hour! (Parents do not need a ticket!) 
The best part is, if you bring a canned food item to the event for the Davis School Food Drive, you will receive $2.00 off your admission! That makes the event only $4.00! I don't know about all of you, but I know at some events where you pay around that for just the face painting, let alone everything else!
To get the $2 discount online, use coupon code LCMU at checkout and then just make sure to take your can(s) with you to the event! You can get more than one discount, so if you are bringing 3 kids, make sure to donate 3 cans and get the discount on all three tickets.
A couple important things to note, entrance to the fair does NOT include in the cost of your movie ticket to see Monsters University. If you plan on seeing the movie in conjunction with the event, you will need to purchase your tickets separately. Also, there is the option of purchasing a $5 Event Special for Popcorn, Soda & Candy in a Monsters University Themed Box. So if you plan on purchasing concessions for your kids, that could be a great (and probably cheaper) alternative!
This event sounds like a great way to have some fun with your kids and help out the local food banks at the same time!
**Tip: The tickets for Monsters University have already gone on sell on the Megaplex site. For the best selection of seats & times, I would purchase both your movie tickets and this deal as soon as you can. I am sure as it gets closer to the 21st, some of the showings will start selling out.