Update:  We now have a $5 Coupon Code for Everyone!  Check to see if your city is hosting this event and you can register for The Color Run with code COLOR5OFF!
I am not a runner at all.  But this looks like it could be really fun!!  In August, The Color Run will be coming to Salt Lake City, Utah.  And, luckily for all of us, we have an exclusive coupon code. YAY!
Just use coupon code COLOR5OFF to get an extra $5 off your registration.  Plus, if you put together a group of 4 people, you will get an extra $5 off your registration automatically.  So get some friends together, or bring your kids and everyone will get $10 off!
To run as a team, make sure you select TEAM RUNNER when you register.  That way, you will get the extra discount.  Remember your team name you create so everyone in your group will get added to the right one.
Here are the Registration Prices:
*Solo Runner/Walker
35.00 Early Registration
40.00 starting May 1st, 2013
45.00 starting July 1st, 2013
*4+ Person Color Team Runners & Walkers
30.00 per person Early Registration
35.00 per person starting May 1st, 2013
40.00 per person starting July 1st, 2013
Notice that the sooner you sign up, the more you will save.  Plus, with the extra $5 or $10 off per registration, I would sign up earlier vs later to save the most money!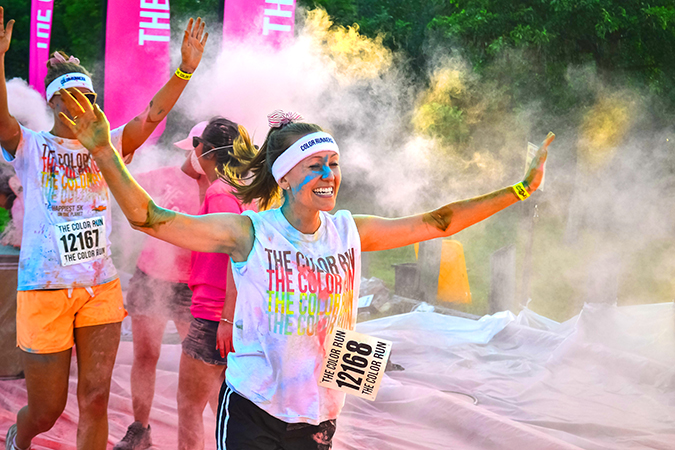 Here are some details:
- The Color Run™, also known as the Happiest 5k on the Planet, is a unique paint race that celebrates healthiness, happiness, individuality, and giving back to the community.
- 
Less about your 10-minute-mile and more about having the time of your life, The Color Run is a five-kilometer, un-timed race in which thousands of 
participants are doused from head to toe in different colors
 at each kilometer. The fun continues at the finish line with a gigantic "Color Festival," using more colored powder to create happiness and lasting memories, not to mention millions of vivid color combinations. Trust us, this is the best post-5k party on the planet!
- 
With only two rules, the idea is easy to follow: 
Wear white at the starting line and finish plastered in color!
-Promo code only valid for the SLC Location.