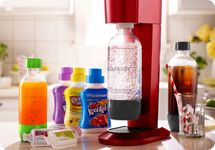 WOAH! This deal is awesome!
Today only, June 26th, QVC is having a sale on SodaStream products! During the sale you can score an incredible deal on the SodaStream Beverage Maker as well as all the accessories!
Plus, there is a $10 mail-in rebate that you can submit to save even more!!
Here is just one of the many deals you can score during this sale:
Here is what is included with the beverage maker:
Two reusable 1-liter bottles
Two reusable 0.5-liter bottles
Mini CO2 carbonating cylinder canister
Two 12-pack variety pack of trial-size samples of diet cran-raspberry, diet lemon-lime, diet pink grapefruit, diet cola, diet Dr. Pete, diet root beer, Energy, Dr. Pete, Fountain Mist, root beer, orange, and lemon-lime mixes; each makes 1 liter
Three 40mL MyWater mixes: one each of lemon-lime, raspberry, and orange; each makes 20 liters (21.1 quarts)
One Kool-Aid grape mix
One Kool-Aid tropical punch mix
One Country Time lemonade mix
One root beer mix
One orange soda mix
User manual
Each full-size mix makes approx. 50 8-oz servings
BPA-free
Carbonating bottles are specially designed for use with SodaStream soda makers
CO2 replacement canisters available over 15,000 authorized retailers
2-year Limited Manufacturer's Warranty
Already have the beverage maker? There are also lots of deals on the accessories and refills as well! ($10 rebate only valid on the actual beverage maker. Not valid with add-on's and refills)