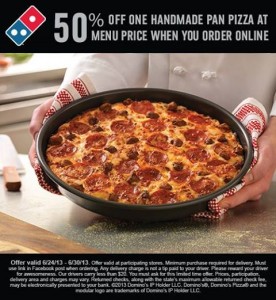 Now through June 28th, Domino's Pizza will be giving away 2,000 FREE pizzas each morning on their Facebook page.
The giveaway is already over for today, June 25th, but I wanted to give you a heads up for the future days. They have not announced what time they giveaway will go live each day, so just make sure to be watching their page for updates.
If you see it go live tomorrow, come back and leave a comment and I'll get the word out as soon as I can for everyone else. Good luck!
**Looking for an idea for dinner tonight? Use coupon code P6A3N at Dominos.com to get 50% off the menu price of one Handmade Pan Pizza! (Offer valid through June 30th)