Looking to purchase a new swing set for your backyard? Check out the huge Discounted Swing Set Sale that Walmart is having online! During the sale they have quite a few swing sets on Rollback!
For example, the Backyrd Discovery Pathfinder II Cedar Swing Set (pictured above) is now only $399.00! (Reg. $499.00) FREE in-store pickup too!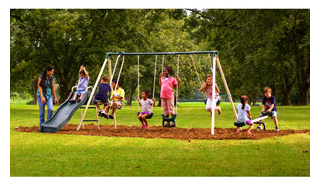 They also have the Flexible Flyer Backyard Swingin' Fun Metal Swing Set priced at only $149.00 with the same FREE pickup option! (Reg. $229.00)
And those are just two of the many options that are available. Make sure to visit the Walmart site to see all of the swing sets that are on sale.