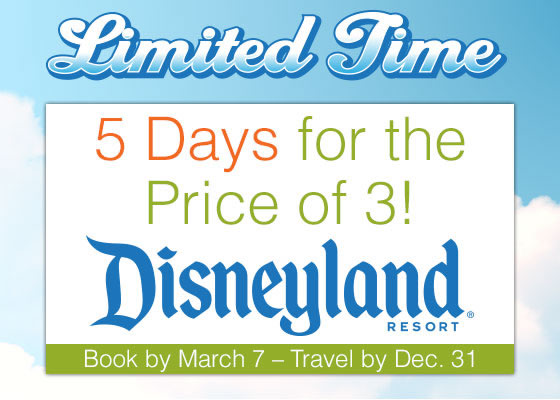 The last Disney offer expired a couple days ago.  And I know a lot of people wanted to use it.. but the dates were very limited.  Well, this newest ticket offer is valid now through Dec 31st, 2013!! Woo-Hoo!
So you can use it on Spring Break Travel, Summer Vacation, even Halloween (my favorite time to go!)
If you purchase a 3 Day Park Hopper Ticket on GetAwayToday's website, you can actually upgrade it to 5-Day 1-Park per Day for the same price!!  Since there are so many new attractions, especially in California Adventures, this should work out perfectly and you won't run out of things to do in one day at either park. To upgrade your 3-Day tickets online, simply remove the default tickets included in your package and add the 5-Day 1-Park per Day Tickets for the same price. Please NOTE:  You have to purchase this deal by March 7th… however, you can travel anytime this year!
Plus, remember that GetAwayToday offers Freebies2Deals readers an extra $10 off when you book both your room and tickets. Just use coupon code Freebies2Deals for an extra $10 off any 2 night or longer package with a minimum of 2 tickets.   The code can be used over the phone or online!
GetAwayToday still has 3rd and 4th night free offers for different Disneyland Good Neighbor Hotels too.  So, make sure you check those out… and- want to get really crazy?
You can book with Southwest and get cheap airfare to California right now!  This sale starts today and goes through March 4th!  You can read that post here, if you missed it.
***TIP: If you didn't know, GetAwayToday does payment plans.  So, if you want to go to Disneyland in October, you can use this ticket deal with your hotel package and book by March 7th.  Then, you can just break up your total owed into equal payments until 1 month before your trip and you will paid off and ready to go.  So if you have wanted to do Disney, you totally can.  That is one of the reasons why I love GetAwayToday.  They try their hardest to get everyone to go to the Most Magical Place on Earth! 🙂