Scentsy is taking 40% off their College Campus Scentsy Warmers!  That means instead of costing $35.00, they are only $21.00!  And, right now it looks like every school is available and in stock.  So whether you are a Utah Fan, Boise Fan, BYU Fan, or even a UCLA Fan… you can score this deal.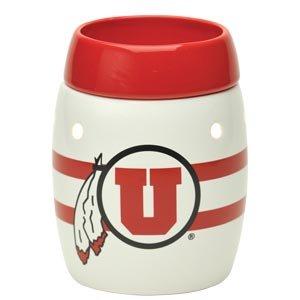 Reader Christine was nice enough to do an online Scentsy Party for us.  I'm pretty sure I would earn Hosting rewards.  But since I'm pretty stocked up on Scentsy right now, I have no problem giving away those Hostess rewards to you guys!  So, if you order through the directions below, I can do a Giveaway just for you guys to win some FREE Scentsy Stuff! (Just keep your order number and watch for that Giveaway Post in the near future!)
You will see Freebies2Deals Link under "Open Parties" on the right hand side.
Click on that and then click on the Campus Collection link on the left side.
All prices are already marked 40% off.  So just add them to your cart and checkout.
It looks like shipping is $8.00.  However, I added a few things to my cart and the shipping cost didn't go up.  So that might be the case for you as well!  If you have friends in your neighborhood that want to order too, place the order together and it should save you a bit on shipping.
(Thanks Christine)