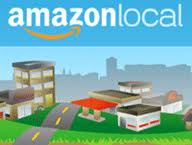 If you didnít know, Amazon is now offering deals each day on places/outings and entertainment in your city!† † And, considering how big Amazon is and the type of pull they have, we have been seeing daily deals on items and places that other sites just canít get.† So far, I have seen deals on things like Movie Tickets and Amazon has even given out FREE MP3 Credits!
So, if you donít already have an AmazonLocal account, make sure you sign up right now so you donít miss any hot daily deal that pops up.
Just choose your city and enter in email and then you can sign into your Amazon account to subscribe to get updates on their daily deals.