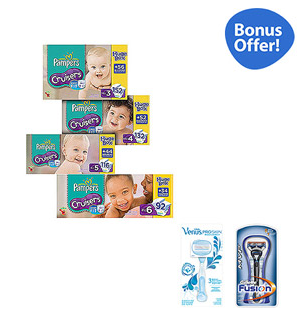 If you already purchase Razors, this is an awesome deal!! I actually use both Men's and Women's Razors when I shave.  They both work great!
Head over to the Walmart website.  And for a limited time, they are offering a FREE Gillette Venus ProSkin Razor and a FREE Gillette Fusion Razor when you add participating Pampers Diapers to your cart!  You can head over and see the different Pampers Diapers that are participating. Just make sure you choose one of the options that shows the bonus free razors!
I personally try to shoot for diapers around $.13 (per diaper) or lower.  My price point has definitely gone up with the inflation we have had recently.  So anything around that price I am all for!  Especially since my little guy goes through diapers like crazy!
These Gillette Razors are usually $8 or more each in-store.  So if you factor that into your cost, you really come out ahead with this promotion Walmart is doing!!