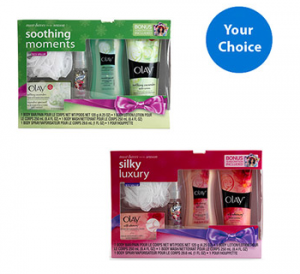 Update:  They have dropped the price down to $5 on Olay and Old Spice Gift Sets! 
YAY!  Walmart has marked down the Olay, Old Spice and Gillette Gift Sets to only $7.00 Each!  (Reg $10 or more) And remember that these Bath and Body Gift Sets actually come with a FREE Magazine Subscription Offer as well! 
There are a bunch of Olay Gift Sets to Choose from that are currently in-stock online. Each come with different items like shower gel, razors and more. You can also choose from Old Spice Gift Sets!
By the way, they have Teen Vogue Gift Sets for around $5.  They include Mascara as one of the products… just that alone is $5 or more. So, this set is a great one for teens! Hard Candy is also an awesome brand that has clearance teen gift sets marked down. Check that out too!
**Remember, you don't have to keep the gift sets intact.  Break them apart.  Separate for different gifts, or to use throughout the year.  Give the magazine subscription as a gift or keep it for yourself.  So many options!
By the way, last year they gave you the option to get a $9.99 Cash Rebate check instead of the $10 Magazine Subscription.  So, if they are doing that again this year (& assuming you can only submit one rebate per household), that would mean one of the gift sets would be FREE! Crossing my fingers that is the case this year too! If you have already purchased one of these gift sets and have read the rebate fine print, let us know if the cash option is available! Thanks!