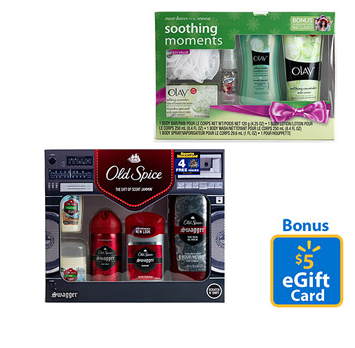 Heads up!!  These are still in stock!~  If you missed this post, here is your second chance.
These gift sets are perfect for stockings or gifts.  Right now, add two of the different Olay, Old Spice and Gillette Holiday Gift Sets for $20.00.  Plus, Walmart will send you a $5.00 eGift Card and each gift set comes with a Magazine Subscription!!
Any of the Olay Gift Sets will score you a one-year subscription to "Allure" or other women's publication
Gillette & Old Spice Gift sets will get you a 4-week "Sports Illustrated" subscription
This is a crazy deal!! Shipping will end up being only $.97!  And, you can either send the $5 eGift Card to yourself or email to someone else during checkout.
**These sets will go super fast!  So, make sure you get the ones you want in your cart quickly.