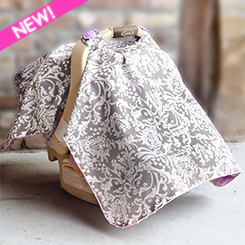 Quick reminder that all 3 of these promos are still working!
Right now, you can get a FREE Carseat Canopy with coupon code MYSAVINGS.  You will just have to pay for shipping- $12.95.  Even with shipping costs, getting a Carseat Cover for $12.95 is a killer price!  I've seen these sold for $30-$50.
If you want one, a lot of styles are being put on backorder. So order quickly, or if you aren't in a hurry, the backordered items will list when they will be shipped.
Right now, UdderCovers is offering a FREE Nursing Cover.  Just use code onefree at checkout to drop the price from $34.95 to $0.  Or, you can purchase a 3 Piece Gift Set that includes a Nursing Cover, Breastfeeding Bracelet and Breast Pads for only $5.00 with the same onefree promo code.
Shipping does cost $11.95.  So in reality, you are paying $11.95 to purchase the Nursing Cover.  But, in my opinion, that is a still a steal of a price for something like this.
Just so you guys know, I have ordered from them before and have had great experiences with my orders- no problems.  And, they have been great to give as shower gifts- especially only paying $11.95 for them!
**If a style you want is on backorder, they usually have a back in stock date and don't take that long to get to you.  So, don't be afraid to order that one if you really want it.
In case you didn't know, you don't have to spend a fortune on Baby Carriers.  Seven Slings does promotions where they end up being free.  And, you just have to pay $11.95 to have them shipped!
Right now, you can use coupon code BABYSAVINGS to get your Baby Carrier Free! The coupon code can run out at any time.  So, if you need one for yourself, or just to have on hand for a baby shower gift, it is a great time to grab one!
**You can use the promo code more than once.. you just have to pay separate shipping and re-open the window I linked you to above to start over.