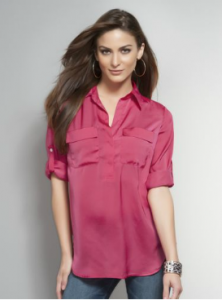 New York & Company is currently taking $25 off of orders of $50 or more! Or you can also get $50 off any order over $100 or more, or $100 off any order of $200 or more.
To get the $25 discount use code 9162 at checkout. For the $50 discount use code 9161 at checkout & and for the $100 discount use code 9160 at checkout.
The best part is, these codes will work on some sale items which are already marked up to 50% off. That means you can stack your savings & score some awesome deals!
Please note, there are some restrictions with these codes. For example, the codes will not stack with clearance (red-line) prices or the Buy 1, Get 1 FREE Pant Sale. Also, shipping starts at $8.99 unless your order is over $100, then shipping is FREE.
**Codes expire August 25th.