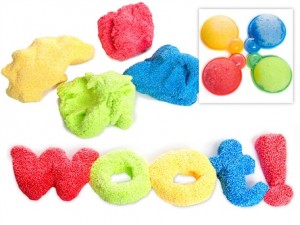 Today only, July 5th, Kids.Woot has the Nickelodeon Floam 4-Packs for $9.99! (Look on the right hand side if you don't see it on the main page.)  Just one Floam normally costs $9.00- so you can see how awesome this deal is!
Plus, Woot always has one shipping cost of $5.00, no matter how many you purchase.  So you could purchase up to three 4-packs and get EACH Floam for as cheap as $2.91 shipped!
These could make fun party favors, birthday gifts to store away or use for Summer projects!
Newest formula of Floam is the best-molding, best-feeling, most friendly, easy-to-clean Floam ever made
Simply squish the beads together to make a malleable compound to construct all sorts of projects
Mix and Mash different colors for unique designs
After you're done, squish Floam back into the container and use it  again and again or let your creation harden overnight and keep it  forever
Each color of Floam comes in a unique, airtight, resealable "Floam Dome" storage container to help keep it from drying out
Includes tubs of Glimmer Green, Rockin' Red, Blazin' Blue and  Electric Yellow, each holding 14.6 cubic inches (240 CC's) of Floam  compound
Each tub includes a bonus Floam mold