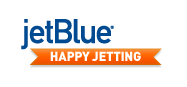 First of all, I have a little tangent for all of the long-time readers out there.  Remember how I posted about my little sister who was vying for a position to work with Martha Stewart??  Well, she just got it!!  She is leaving in one week and I am so proud and excited for her.  This is her absolute dream and I can't wait to see how it all turns out.  So, thank you to all of you who have supported her!!
She needed to hurry and book a flight to New York and I thought we should wait until Tuesday… something magical about Tuesday just seemed right.  (And, I was hoping that Jet Blue would come out with another One-Way Airfare Sale- and they did!!)
So, for everyone looking for a flight deal, Jet Blue is doing their One Way Airfare Sale.  Flights are as low as $59.  Although the majority of them are higher than that, they are still significantly discounted from their original price.  Our family usually jumps on the deals from Salt Lake City to Long Beach so we can do Disneyland!  Depending on the size of your family, some of these deals end up being cheaper to fly than to drive.
Details of the promo:
Book by May 30, 2012 (the earlier of 11:59 PM ET or local).

Fares not available on Orbitz, Travelocity, Expedia or Priceline.
Travel June 5 – September 26, 2012.  Blackout dates June 28 – July 7, 2012. (Day of week restrictions and travel window exceptions apply and vary by route.)