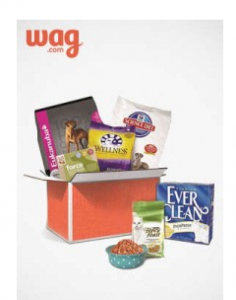 Update: Wag.com emailed me about this offer and said it was for NEW Customers.  But, many of you are saying that it will only let you use the code if you are an exisiting customer.  Wag.com, Diapers.com, Soap.com are all part of the same company.  So see if you can sign in with one of those accounts and use the coupon code.  I have no idea why it is being so strange….
Wag.com is currently offering $10 off any $10 purchase on any first time orders!
This means if you've never ordered from Wag.com before you can get $10 in FREE product! To get this offer just use code WAGNOW10 at checkout.
Wag.com is a sister site to Soap.com & Diapers.com, which I am sure a lot of you have heard of. This deal is a great way to grab something new for your pet for really cheap. Plus, you get to try the company out & see what you think.
**Shipping will be $4.99 or shipping is FREE on orders over $49.