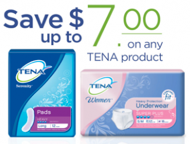 Update: Since this coupon states "up to $7.00" some Walmart locations are not giving overage on this coupon, while other Walmart locations are giving the overage. Just a heads up, your mileage may vary on this deal. 
There is a new coupon out right now for $7.00 off of any TENA product! To get the coupon you will need to fill out a form on the TENA site. Then, once you have done that, the coupon will then be emailed to you & you can print it off.
Once you have the coupon, you can use it to score the following money maker deal scenario at Walmart! Here's how:
Purchase the TENA Liners for $2.86 or the TENA Pads for $5.24
Use the $7.00 off of any TENA Product Coupon (can only be printed once!)
Total cost FREE + up to $4.16 in overage!  
Please note, Walmart's Coupon Policy does state that overage is allowed and can be used toward other items in your cart so you should have no problem with this deal. Of course, it definitely wouldn't hurt to take the Walmart Coupon Policy with you when you go. In fact, I highly recommend that you do since you are getting so much overage with this awesome deal!
**This is an unadvertised deal. Pricing and selection may vary by store and region!
(Thanks I Heart the Mart)