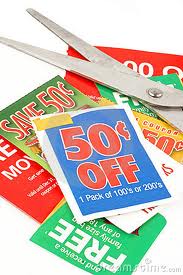 Hopefully by now, you have all read the very first post in our Starting Fresh with Couponing Series.  If not, head over here and read it.  It will give you more insight to how much time it takes to coupon, if it is really worth it, and what kinds of returns you can see with couponing!
Now, on to the 2nd post in the series.  It is all about Organization!  It really makes all the difference in the world.  If you aren't organized, couponing will seem overwhelming.  Not to mention how frustrating it is when you can't find a coupon.
3 Ways to Organize Your Coupons
Organization Method #1:
Coupon Binders. 
This is what I use and find to work the absolute best for me.
One of the misconceptions is that in order to do the coupon binder method is that you have to have some huge hefty binder.  But, you only need a coupon binder big enough to carry the amount of coupons you cut.  You might see others with huge binders, but they probably cut all of the coupons or close to it.  For example, my binder is 4 inches!!!  But, I also cut pretty much all of the coupons so I can find unadvertised deals in the store for all of you when I post.  So I'm one of those exceptions. ;)  Most of you will probably only need a 2 inch binder… which isn't as bulky.
For the Binder Method, you will cut out your coupons each week and put them into baseball card protector sleeves.  These are 9 slot holders that you can then organize into categories.  I have come up with my own categories of what works best for me.  And, I have even put together FREE Coupon Binder Category pages you can all download and print out for your own binders!!  Feel free to only use the categories that you want, even though there are a ton to print out and use.  Or, add your own with the blank category pages.  It will give you an idea of what categories to separate your coupons into.
To give you more insight into how your Coupon Binder should look and how to organize it, you can watch this Video I did on Organization below.  (If you can't see the video in your RSS Feed or Emails, you can watch it here.)
Organization Method #2:  Accordian Folder Method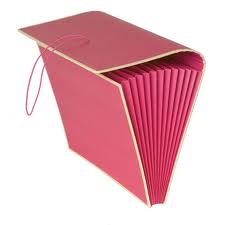 Some people only like to cut a few coupons.  So, they grab one of those accordian file folders and put a few coupons into slots to take with them to the store.  I personally find this method too messy for me as I have too many coupons to keep track of.  But, if you are only using a handful of coupons, it could work for you.
Organization Method #3: File Cabinet Method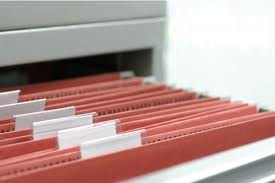 If you are one of those people who want to do as little cutting as possible, or just want the least amount of hassle, this is the way for you!
Whenever you get the coupon inserts from the Sunday Paper, just write in Black Marker the date of the Sunday paper you got it from. (It is also on the binding of the insert, but seeing it in big, bold writing on the front helps save some time.) Then, store them away in a file folder, cabinet or something similar.  Then, when I post the deals, I ALWAYS give you a date.  So, if I say "Use the $1.00/1 coupon from the 12/3 SS", you know that you can go to your 12/3 Smart Source Insert and cut out just the coupon you need.  The only negative to this method is that you don't always have your coupons on you when you are at the store.  So, if you happen to find something on clearance, you won't have your coupons to grab the deal.
Another part of this method is that since you aren't cutting all of your coupons at once, you will have to go through the Grocery Matchups that I do and cut out individual coupons before you can hop in the car and get to the store.  This takes time.  And some might argue it takes more time because you are searching different inserts for particular coupons.  But again, do whatever method works best for you!!
How to Cut Efficiently
I mentioned before that I can cut all 5 copies of my coupon inserts usually within 45 minutes.  And, then it takes about 20 more minutes to put them in my coupon binder.  So, let me share with you how I get it done so fast.
Once you have the coupon inserts from the Newspaper, I take my 5 copies of 1 insert and lay them all by each other.  I take the same exact page from all 5 inserts and lay them on top of each other.  So that way, I am only cutting one time, but cutting 5 of the same coupon!  Then, depending on what the coupon is… Dairy, Breakfast item, Meat… I put it into its own category pile.
Once I am completely done cutting out all of my inserts the way I explained above, I have a bunch of piles of coupons.  All are in their own category pile.  Now, I pull out my coupon binder and take each pile and put them in their assigned category. When putting in your coupons, fold all copies of the same coupon together.  I like to fold it so the picture and the expiration date are showing.  And, if you get really tricky, you can usually have the picture on the front side and the expiration date on the back.  (It makes for easier pulling out of expired coupons once a month. We will talk about that in our NEXT Starting Fresh with Couponing post!)
Phew… ok. That is how I cut and put them into my binder. And I have found that is what works best for me.  But PLEASE know that everyone is different and you might find a way that works better for you!  Once you find it, your coupon organization will flow effortlessly and be a ton easier!
What Do I Need to Have for the Binder Method??
Here are the items that you will want to grab for the Binder Method:
3 Ring Zippered Binder:  Zippered is KEY!  That way your coupons can't fall out if the binder gets dropped or your kids get ahold of it.  Nothing worse than having to re-organize your coupons.
9 Slot Baseball Card Inserts:  How many you need will depend on how many coupons you plan to cut.  These are actually found next to the Baseball Cards at places like Target.  However, many of you will notice those are actually at the front of the store by the registers.  So ask an employee where they are if you can't find them.  I've also found these at places like Office Depot and Staples too!
Category Tabs (You will need as many as you have Categories so you can find your sections quickly in-store)
Category Pages for your Binder:  Feel free to print out the ones I made for all of you here!
Extras:  Some people like to have calculators, or scissors in their binders.  Many coupon binders will already have zippered compartments you can put those extras into.
What Do I Do with my Printable Coupons?
That is a really good question!  I know that a lot of times we print out coupons but aren't 100% sure if we are going to use them.  So, what I personally do is keep all of my papers of printable coupons at the very front of my binder.  Then, since I have scissors inside my binder, I can cut that ONE coupon if I decide to use it at the store.  I find that cutting all of the printable coupons is a waste of my own time because I don't end up using all of them.  So, only cutting the ones I end up needing in-store saves me the most time.
So, now that you have read more about Coupon Organization and watched the Binder Method Video, it has helped you decide which one you think will work the best for you.  Go with that one and try it out.  If you find it isn't working perfectly, then keep tweeking it until it does work.  Remember, we are all different and all work different ways.  So it is normal and natural for us to all do our organization differently.  As long as it works for you, you should be on the way to using coupons and saving some money!