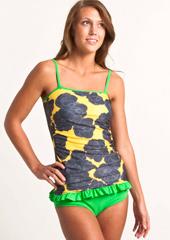 Today through Dec 30th, you can get 60% off swimsuits at Lime Ricki!  Just use code boxing at checkout to get the discount.
The tankini pictured above is $29 on sale.  Plus, after coupon code, you can get it for only $10.40!!  Obviously, it is winter, so you might not be in the market for a swimsuit.  But, if you are going on a trip, or just want to save a ton on suits for the upcoming summer, this is the deal to grab.
They have always been pretty good about doing no hassle returns too.  So, if the size isn't quite right, you can exchange it for one that fits.