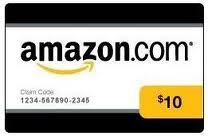 You can earn a Free $10 Amazon Gift Card!  All you have to do is create a Stumble Upon account and have 5 friends set up an account too!  If we can all work together, we should all be able to earn a $10 Amazon freebie… which will definitely come in handy with Christmas!
If you didn't know, StumbleUpon is all about searching the web and finding things that you are interested in.  So, if you love finding a bargain and using coupons, you can let them know and they will let you know when they "Stumble Upon" something like that you might like!
Here is what you need to do:
My link above is my referral link.  If you don't want to use mine, you can use any of the referral links posted in the comments section from other Freebies2Deals readers. (Just please don't post on the F2D Facebook Page. It gets too messy.  Thanks!)
Referrer shall receive one Reward valued at $10 in for each five Qualified Referrals generated by Referrer. For every 5 referrals who register for the StumbleUpon Share Program, you will receive one $10.00 Amazon gift card. Sorry, no partial credit. You will only receive a gift card for every 5 Qualified Referrals. Delivery of gift card will be made within 6 weeks. Self-referrals not allowed. Gift Cards subject to terms of card. Gift cards may be delivered digitally to recipient. StumbleUpon is not responsible for gift cards delivered to spam folders and will resend original link, but not replace link.
(Thanks Money Saving Mom)