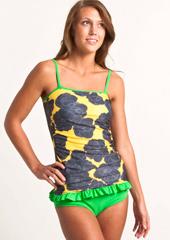 One of the hottest swimwear shops is Lime Ricki.  They have cute tankini's that work great for Moms and daughters and I know of a lot of people who have been waiting for a killer discount from them.
Today on Groupon, you can score a $50 Credit to Lime Ricki for only $25!  And, you can use it in-store, if you live in Utah, or online.  That way, anyone in the country can grab this deal!
You have until Feb 15th to redeem it.  But, you will need to purchase the actual Gift Certificate today.