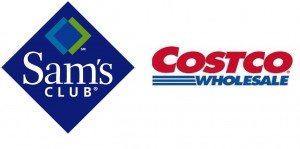 A common question I get all of the time is whether or not having a membership at a Sam's Club or Costco is really worth it.  Instead of me making the decision for you, let me give you a few of my thoughs and facts about Warehouse Shopping Vs. Coupon Shopping.
There are a few staples that I always purchase at Costco instead of a Grocery Store.  Even with a great deal and a coupon, Costco wins out.  Those items are Kirkland Baby Formula (their store brand) and Trash Bags! And every now and then I will see better Blu-Ray prices, or baked good prices.
I have never been able to find a better price per trash bag than I have at Costco.  And, because of that, I go every couple months to get another HUGE box of them.  They last forever!
One of the things I always see people purchase at Costco is Baby Wipes and Diapers (any brand).  Unless you are getting those diapers for $.10 each and those Wipes for $.01-$.02 each, you are not getting a deal and could easily find a better price with Amazon's Subscribe and Save Deals that pop up, or with a great store deal and a coupon.
Costco announced today that they will be raising their yearly membership fees 10%.  That means if you pay $50 right now, you will be paying $55 when you renew.  And, if you pay $100, you will be paying $110 when you renew.  I don't think 10% is a really hefty price- but then again, it depends on how many times they plan to raise the membership cost and how often you really shop to save at Costco.
The most important thing you can do is price compare between the grocery stores you shop at, and warehouses like Costco and Sam's Club.  Divide everything out by ounces or pounds.  That way, you will know for sure which one carries the best prices on particular items.  With the items that you are purchasing at Costco, will the increase in membership price affect your decision to renew??
For those who live in Utah, KSL Channel 5 came out to my home today to do an interview for the 6:30 News!  So, be sure to tune in to watch it! :)