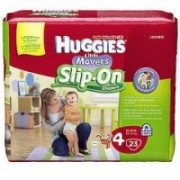 Starting September 18th at CVS, there will be an Extra Buck promotion happening on Huggies Slip-On Diapers!
When you spend $25 on Huggies Slip-Ons you will receive a $10 Extra Buck!  This promotion makes for some seriously cheap Huggies Slip-Ons! Here's how:
Purchase 3 Huggies Slip-On Diapers at $9.00 each
Use 3 of the $3.00 off of one Huggies Little Movers Slip-On Diapers Coupon from the 09-11-11 SS
You will pay $18.00 but you will receve the $10 Extra Buck
Total cost $8.00 for all 3 packs or $2.67 each!  
Please note, this deal does NOT start until this coming Sunday! Do not try to get this deal this week at CVS, it won't work. I just wanted to give you the heads up so that you didn't use your coupons elsewhere if you live near a CVS!
(Thanks Passionate Penny Pincher)