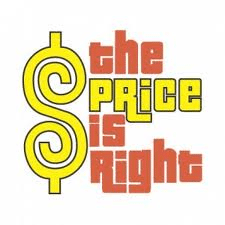 I have been working on compiling a HUGE list of all my personal Price Points.  So many of you have asked me for them who are new to finding deals and using coupons. Hopefully knowing what I will and won't pay will help you figure out your own price points for certain items.
Before we go any further, a Price Point is the amount of money you are willing to pay for an item.  Any deal higher than that is too much to pay for that item.
Here are a just a few of my own Price Points off the top of my head.  Like I said, I'm working on a FULL list, but it is taking forever to do. 😉
Products
KILLER Price
(Buy Now/ Stock Up)
Great
Pretty Good
Chicken Breasts
$1.29 lb or Less
$1.59 lb
$1.79-$1.99 lb
Toothpaste (Any Brand)
FREE
$0.25
$0.50- $1.00
Toothbrushes ( Any Brand)
FREE
$0.25
$0.50- $1.00
Bottled Water (24 Pack)
$1.50 per 24 Pack or Less
$1.99
$2.50ish
Brand Name Cereal
$.75 a box or Less
$0.99
$1.25- $1.50
Disposable Razors
FREE- $1.00
$1.50
$2.00
Fruit Snacks
$.99 or Less
$1.50
$1.75
Ice Cream Sandwiches
$1.50 a Box or Less
$1.67
$2.00
Hefty Sandwich Bags ( Quart
and Gallon Size)
$1.49 a Box or Less
$1.99
$2.25
Aluminum Foil
$.69 or Less
$0.99
$1.50
Totino's Frozen Pizzas
$.80 or Less
$0.99
$1.25
DiGiorno or Freschetta Pizzas
$2.50 or Less
$3.50
$4.00
Diapers ( ANY Brand)
$3.99 per Jumbo Pack or Less
$4.99
$5.99
Baby Wipes
$.01 per Wipe
$.02 per Wipe
Paper Towels (Single Roll)
FREE
$0.25
$0.50
Hot Dogs
FREE- $.25
$0.50
$1.00
Tampax Tampons (36 Count)
$1.99 a box or less
$2.50 a Box
$2.99 a Box
12 Packs of Coke or Pepsi
Products
$2.45
$2.75
$2.90
Gum- ANY Variety
FREE
$0.10
$0.25
Strawberries 1 Pound
$1.25- $1.50
$1.75
$1.99
IMPORTANT:  My price points could be totally different than yours.  You might be willing to pay more or you might want to spend less than what I have written. But, this list is made to help give you an idea of the types of prices you will see with a deal and coupon- and when to stock up and when to pass.