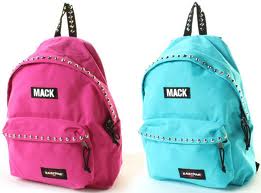 School is starting soon.  And, you might need backpacks for your kids!  So here are the best deals on backpacks this week.
Plus, I wanted to announce something new I will be posting about in the future- the Go Bags!  Go Bags are something that you place under each person's bed with a change of clothing, food and survival gear.  If a natural disaster happens and you have to get out of the home quickly, all you have to do is grab the bag and leave.  People in the middle part of the country affectionately call it the Tornado Bag. I personally think everyone should have one of these ready to go. So, I will be telling you what to put in your bags in the coming weeks- but for now- if you don't have a backpack, the back to school sales are the best time to get them.  So make sure you have a back pack for each person in your family for the Go Bags.
Office Depot:
Free Backpack and Lunch Tote with a purchase of $15 or More.
**Purchase all of the things that are $.05 and $1.00 deals on your Child's School list and basically get your Backpack and Lunch Tote for FREE!
ToysRus:
Purchase a $12.99 or more Backpack and get a $9.99 Lunch Box for FREE!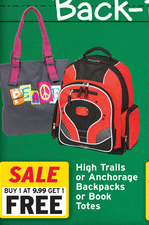 Walgreens:
Purchase one High Trails or Anchorage Backpacks or Book Totes for $9.99, Get One Free!  (Only $4.98 each!!)