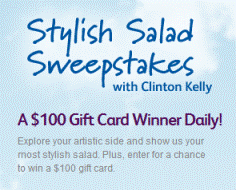 Dole would like you to show them "Your Most Stylish Salad" for a chance to win a $100 gift card! Dole will be giving away one $100 gift card everyday!
The step to upload a photo of your unique and creative salad is actually optional- so you can enter even without the salad picture!
This is what they had to say: "Upload a picture or share your recipe for a stylish salad! You are still eligible to win even if you do not create and upload a stylish salad."
Sounds like an easy way to win- I'd like to see your salad if you're a winner!