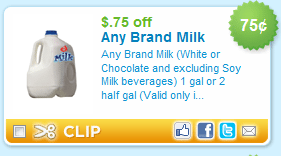 Reminder, this coupon is still available if you missed this post last week!  And $.75 off milk is a KILLER Deal!
If you live in Idaho or Utah, hurry and grab this coupon ASAP!  You can score a $.75 off 1 Gallon of Milk coupon. 
Normally I tell you not to enter in a coupon code, but because this is area specific on the actual coupon and can only be redeemed in those states, you will want to enter one in.
(Thanks Jackie!)