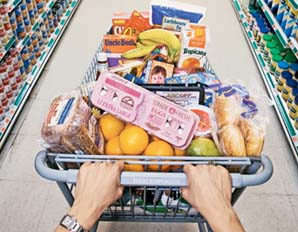 Lately, my husband has been coming with me to the grocery store to pick up some of the deals I want. He gets to push the cart and I love that I don't have to. 🙂  It's been a little hard because not being a hard-core couponer like I am, he sees something, remembers how good it tastes and wants to buy it.  I look at the price and think… Are you kidding me?  He knows we don't usually purchase things without coupons.  So I always have this bewildered look on my face and just walk away.
But, as much as I do not like to purchase things without coupons, it is important to learn to compromise.  It is important to make my husband and my family happy while still saving money.  So, today while we were at Smith's, he pointed out numerous things he wanted that unfortunately, weren't on sale and we didn't have a coupon for.  So I had to promise to watch for and stock up on those items the next time there was a killer deal. I could tell he was a little let down, but he understood the method behind my madness.
One of the deals he wanted was the  Kellogg's Cars 2 Cereal for $1.50.  (Normally I wait to purchase a box of cereal until it is close to $.75.)  However, it was on sale and I did have a $1.00 off 3 coupon we could use.  Would I have normally purchased that?? No way!  But, spending a little extra to make his day was worth it to me.  You should have seen how happy he was for that Cars 2 Cereal!
It made me realize how easy it is to get caught up in being overly obsessive with coupons.   I think it is really important to create a great balance between all of the deal hunting we do as couponers. Sometimes you do need to stick to your guns in order to save money and build your stockpile.  But, making a few exceptions here and there means you are still human—-and I think that is how we all want to be, right?