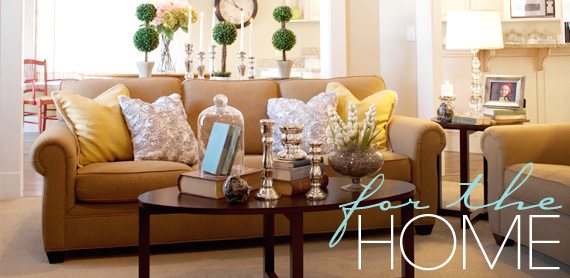 About two weekends ago, I headed over to DownEast Home to see what I could grab with their sale they had going on. I actually ended up going to two different locations because each store can have different items and I seriously scored!  I haven't decorated my home in the past 3 years we have lived here.  But it has been something that I have really needed to do to make my house feel a lot more like a home.
Pictured below you will see the most amazing outdoor patio set. (Sorry, the picture is indoors- it snowed!! It just doesn't do it justice!) It came with two chairs and the middle ottoman. And, although I can't tell you the name of the brand, I seriously made out like bandit!! I couldn't believe what I paid for this normally $350-$450 set. Plus, I was able to pick up a bunch of items like Candle holders and other decorative items to spruce up different areas of my home. All at a crazy discount. I'm really looking forward to Summer nights on our out-of-this world patio set!
And, the best part is that DownEast Home now sells some of their Home Accessories ONLINE!!  So, for those of you who don't have a Home location in your area, you can still pick up adorable decorations to have.  Plus, DownEast Home is giving ALL Freebies2Deals Readers a 20% discount off their entire purchase of DownEast Home accessories (individually priced $49.99 or less).  Just print off this post as I did, or show them the post on your phone and they will give you 20% off all of your home accessories (individually priced $49.99 or less).  Or, if you are shopping online, head to the Home Accessories section and enter in code FREEBIES2DEALS to get the same discount.  Code expires 4/21.
On top of that craziness, DownEast Home is giving away 4 $50 DownEast Home Gift Cards to Freebies2Deals Readers!
To enter:
#1 REQUIRED Entry: Head over to the Home Accessories Section of DownEast Home and find your favorite item.
#2 and #3 Optional/Extra entries: "Like" DownEast Home on Facebook and/or Follow DownEast Home on Twitter
After you have done so, head over to THIS special link to fill out our DownEast Home Giveaway Form.
No email entries, Facebook Comments or Website comments will be accepted. Must be 18 or older to enter. Only one entry per person. All Duplicate entries will be deleted. All entries will be verified before the winner is chosen.
Giveaway starts now and will end Monday, April 18th at 11:00am. Make sure you check the Freebies2Deals website on Monday to see if you won! Winners will be chosen through Random.org and will have 48 hours to email me at melea@freebies2deals.com  to claim their prize. Or it will be given to someone else in their place.
Good luck!! And don't forget to grab your 20% off discount!